Generation Z loves visual-first content -- especially videos. And data from the 2016 Social Admissions Report suggests that students rely heavily on video as they research colleges and decide which one to attend.
So if you haven't yet ventured into video, consider incorporating livestream video into your spring yield campaign. It's relatively easy and a great way to engage your admitted students.
The Growth of Video
According to a presentation of the 2016 Social Admissions Report published to LinkedIn SlideShare last week, 4 out of 5 students have watched a video from a college or university.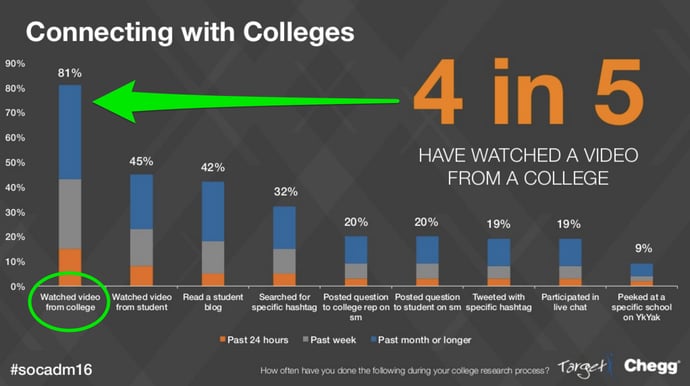 If you're still unconvinced that video is the way of the future, consider this slide from the same presentation, showing significant growth over the past four years in the percentage of students who regularly view videos during the college search process. Also not to be overlooked in these graphs is the incredible growth in other visual-first social media channels, most notably Instagram and Snapchat.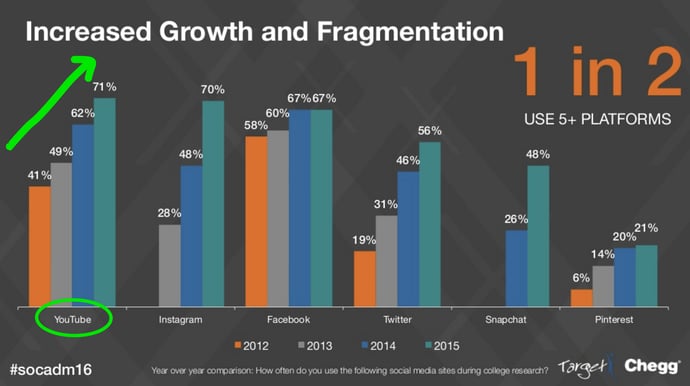 Engage Admitted Students with Livestream Video
What is livestream video and which platforms are best?
Livestream video is a live broadcast of an event as it happens. Your institution may already be streaming live broadcasts of athletic competitions, guest speakers, or alumni events, so be sure to use your colleagues as a resource and ask them about their experiences.
There are many platforms that allow you stream videos live. Because of Generation Z's predisposition to social media, we recommend selecting a free platform that easily integrates into popular social media channels. Some examples are Periscope (owned by Twitter), YouTube Live, and Facebook Live. An added bonus is that students don't have to download a separate app to see videos on these platforms. To learn more about the pros and cons of these and other livestream offerings, check out this post.
What types of events should I stream?
Once students have been accepted to your college, they want to gauge whether or not they can actually envision themselves at your institution. So they look to the experts: current students.
If you're feeling froggy and have some friends in IT who may be able to help you out, you could consider following Clemson University's lead and streaming a live Q&A panel with current students. (Note: If you don't think you can pull this off, no worries. A Twitter chat for accepted students can accomplish the same goals and doesn't require a huge investement of time and resources.)
if you're relatively new to video, or if you don't have the capacity for a full-on event, consider running a livestream series, with each video in the series only 5-7 minutes in length (Generation Z has a fairly short attention span). It's an easy way to fill your content calendar and gives admitted students something to look forward to on a regular basis.
Just remember to publicize your live stream series, and whenever possible, save the videos so you can repurpose the content later on!
Here are a few ideas for a livestream videos series, but be sure to brainstorm other campus-specific ideas with your team, and get feedback from any student workers you have on staff as to what they would find most interesting.
1. Campus Life Livestream Series
Current students discuss various aspects of campus life, such as dorms, dining halls, clubs/organizations, weekend trip destinations, and campus traditions. Consider giving admitted students the opportunity to submit questions ahead of time (through social media, email, or a web form) so that those questions can be addressed in the videos.
2. Major Spotlight Livestream Series
Current students discuss the types of projects they're working on in their majors. This can range from research projects and senior theses to summer internships and study abroad experiences. Be sure to highlight a wide range of academic areas.
3. Campus Faces Livestream Series
Interview student leaders and other notable folks on campus, or have these people answer questions submitted by accepted students. Feel free to expand to popular administrators, too. In 2013, the tech-savvy Dr. John Wilson, President of Morehouse College, answered admitted students' questions live on Facebook as part of the college's Morehouse Monday series.
4. First-Year Bucket List Livestream Series
Indiana State University inspired us with their 101 Things to Do During Your First Year at Indiana State bucket list. Have current students assist you with developing a first-year bucket list and livestream students doing some of those things.
From the Pros: Tips and Best Practices
Here are some livestream video tips from higher ed social media pros around the country. These comments come from a January 2016 CASE Twitter chat on livestream video; be sure to check out the full chat for lots of great tips and ideas!
1. Set Yourself Up for Success
Avoid a shaky shot with a tripod or other mounting device for your phone or camera.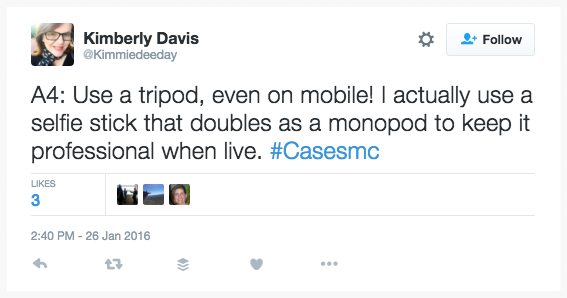 2. Poor Audio is a Deal-Breaker
Test the sound before going live to ensure your accepted students can hear well. Make sure other people in the vicinity can't be overheard, or that a lawnmower isn't headed your way.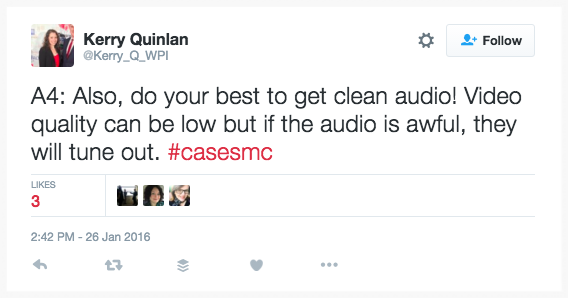 3. Don't Forget to Engage With Students
When livestreaming through social media, it's important to remember that it's an opportunity to build relationships with admitted students. Engage with students if they ask questions or comment on the video content.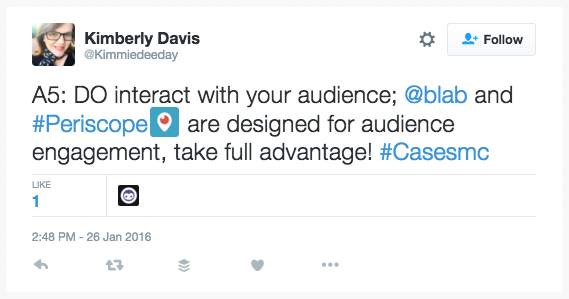 ---

Have you used livestream video to engage your admitted students? Share your experiences in the comments section below!