In our last post, we discussed why digital engagement should play a prominent role in your spring yield campaign, and provided an overview of five easy ways to engage your admitted students.
Today, we take a closer look at one of those strategies: Twitter chats.
So just how easy is it to execute a Twitter chat? Pretty easy, but as with any event, a little planning goes a long way. Give your accepted students the best possible experience by following these steps when planning, hosting, and assessing your chat.

Step 1: Planning the Chat
Time / Date
Scheduling your chat is trickier than it might seem. Most Twitter chats for admitted students are held Sunday through Thursday evenings, but it's important to choose a date and time that make sense for your admitted student population.
If your accepted students are concentrated in one state or region, you can prioritize that time zone when scheduling your chat. On the other hand, if your domestic student population is geographically diverse, you'll want to select a time that could work for everyone, such as 8-10pm ET / 5-7pm PT. Do you have a large international student population? Consider hosting a separate chat session just for them.
Having trouble figuring out time zones? Don't count your fingers, use this tool to help you with scheduling.
Hashtags
Hashtags are mission critical. Your chat hashtag will be appended to each Tweet, so be sure it's short and easy to remember.
Class year hashtags like #Morehouse20 are a great way for student to connect with one another, but you may want to select something different for your chat. Stamats recommends "actionable hashtags such as #CU4me or #UTforU."
You could also consider choosing a hashtag that you can use for future chats or one that prospective students can use when asking questions through social media more broadly. Here are a few hashtags other colleges use:
-- #AskUCLA
-- #UMBCAdmit
-- #AskaGael
-- #tigertownbound
Discussion Topics
Most likely, you'll want to keep the topic of your chat general to give admitted students the opportunity to ask questions about anything they like. However, you could also experiment with a series of chats, each focused on a different topic. Check out Western Kentucky University's Twitter chat lineup for inspiration.
Student Ambassadors
At this stage in the game, your accepted students want to hear from current students, so take the role of moderator and find a handful of student ambassadors to drive the discussion. Jump in to provide answers that may need an official touch, such as those about financial aid policies.
Promotion
Now it's time to promote the event to your admitted students. Let them know the date and time, as well as the hashtag. If student ambassadors are participating, highlight them! Add the chat to your website, include it in emails, and -- of course -- promote it on social media.
Tools
Consider using one of the many free tools out there that can help you manage your chat.
Step 2: Hosting the Chat
Welcome, Introductions, and Instructions
Start off your chat by welcoming and congratulating your admitted students, and by introducing yourself and your student ambassadors. Be sure to let students know to include the hashtag in their Tweets.
Check out this series of introductory tweets from one of Western Kentucky University's 2015 chats: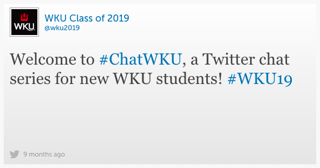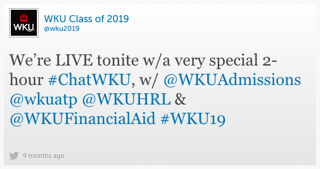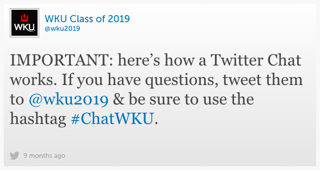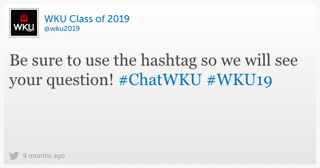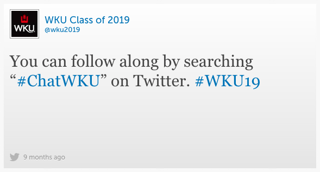 Effective Replies
When replying to a question during the chat, be sure to add a period in front of the student's Twitter handle; this ensures the Tweet shows up on your timeline and makes it much more likely that other students will see the response as well.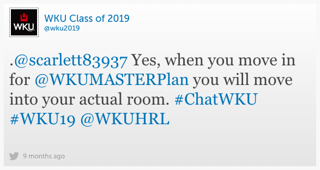 To learn more about why the period is important, read this article.
If Things Go Quiet
Hopefully, you'll have some very active chat participants, but things may go quiet. If that happens, don't end the chat early! There are often students who are just "lurking" -- following the chat, but not actively participating. To ensure you can keep the discussion going, jot down a few topics that you or your student ambassadors will discuss if you run into a quiet spell.
Step 3: Follow Up and Assess
Personal Follow-Up
With Tweets limited to 140 characters, it's difficult to provide in-depth responses to questions, or to address individual student concerns. If these types of questions come up during your chat, be sure to personally reach out to those students afterwards.
Assess
As with any marketing strategy, it's important to assess what worked and what didn't. Tools like Hootsuite and TweetDeck make it much easier to measure your results.
How many admitted students participated in the chat? How many questions were asked? How many retweets and likes did you get? Did you hit any bumps in the road? Take what you learned and make your next chat even better.
Reuse Your Content
Your Twitter chat will generate lots of great content that you can repurpose and use later on.
Storify makes it easy to select Tweets from your chat and put them together into a story-like presentation. Create a story and add it to your website so that students who were unable to participate can easily look through the questions and responses.
If you run a blog, let the questions from your chat serve as the basis for future posts. Consider starting with a question that was posed during the chat and have a few current students provide different perspectives.
---

Want to learn more about hosting a Twitter chat for your accepted students? Join our upcoming webinar, The Ultimate Guide to Admitted Student Twitter Chats.